The Exploration of the Earth's Magnetosphere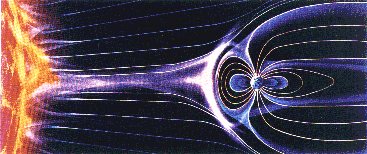 Illustration by K. Endo. © Nikkei Science Inc.
---
News! As of October 1998, "Exploration" has a sister site From Stargazers to Starships, an educational exposition of elementary astronomy, Newtonian mechanics and spaceflight (each part can be read independently). Look it up--your comments would be appreciated!
More news! As of 1999, we have added an expanded, extensively linked glossary , as well as both a basic and an annotated chronology, the latter placing the main developments of magnetospheric physics in the context of history.
"The Exploration of the Earth's Magnetosphere" files are available as a TARed and GZIPed file via anonymous FTP
---
---
And by the way... In May '98 Exploration of the Magnetosphere was picked as one of Ten Cool Sites by the Exploratorium in San Francisco. It is a site worth visiting and lists many other interesting links.
"Exploration" was also recommended by "Web Watch" in the January 1999 issue of Physics Today (page 63).
---

Official GSFC Home Page .........

NASA WWW Home Page
Authors and Curators:
David P. Stern - NASA/GSFC Code 695 (u5dps@lepvax.gsfc.nasa.gov)
Mauricio Peredo - Raytheon STX Corporation (peredo@istp1.gsfc.nasa.gov)